In Memoriam Joke Brandsma
Details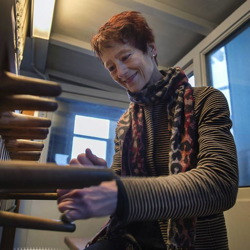 ARNHEM – On April 20, 2017, Joke Brandsma died She had been city carillonneur of Enschede since 1991 and Arnhem since 2016. In addition to carilloneur she was also conductor of the Velps Kleinkoor choir and the choirs of the Diaconessen church in Arnhem and the Dorpskerk in Rozendaal. The mourning card mentioned what was important to her: "Music is my life; my life is music ".
Joke was born in Heerenveen in 1959 and started her music education with the organ classes of Anco Ezinga. After that she studied organ at the Music Conservatorium in Arnhem. There she also learned the carillon through the lessons of Gert Oldenbeuving. Later she studied at the Dutch Carillon School in Amersfoort with Arie Abbenes and Bernard Winsemius. For choir direction and choir music she traveled to Utrecht.
As a composer she worked on the Organ Book for the "491 Gezangen" collection of church music, the Zingend Geloven (Singing Beliefs), and the nieuwe Liedboek (new Songbook.) She wrote, among other things, "Miserere mihi" (1979) and "Lutum fecit" (1985), two motets on gregorian themes for 5-part a cappella choir. In 2011 followed "Lorc'amor" and Mystiek Lichaam (Mystical Body), also for a capella choir. She wrote both music and text for Van de dolfijn en de forel (From the dolphin and trout) for choir and Kalm is de nacht (Calm is the night) for choir and whistle.
On behalf of the NOS, she reworked arrangements by Johannes and Frederik Berghuis. These Delft carillonneurs arranged a lot of carillon music in their time, including overtures, folk songs, dances, and marches. This so-called Berghuis repertoire is located in the Delft municipal archive.
For carillon, Joke wrote the "Twente Suite" in 1995, in which she blended characteristics of the five Twente carillon towns, very inventive and entrancing. Her former composition for carillon "The Rhythm of Mother Earth" (1988) originated from the song Zo lang er mensen zijn op aarde by Tera de Marez Oyens. Joke devoted her work to her partner Joke Nachenius.
Photo: Marina Popova