Restoration of the Hemony Carillon of the Zuidertoren in Amsterdam
Details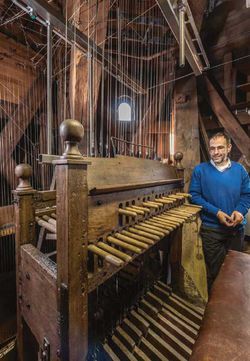 During maintenance work on the Zuiderkerk in Amsterdam in 2011, the lead in its spire was discovered to be in bad shape even though it had only been applied during the restoration in 1994. Inevitably, scaffolding was erected around the tower again in 2016. The new restoration could start after the dismantling of the carillon with three octaves and the removal of all 35 bells from the tower. Of these bells, 23 were cast by François Hemony in 1656-1657. Royal Eijsbouts had replaced the highest octave with replicas of the original Hemony-bells in 1994.
In the summer of 2017, the restoration works on the spire were completed. After a partial takedown of the scaffolding, the bells could be replaced and the historic automatic chiming system by Jurriaen Spraeckel reconnected.
In the last months of 2017, Gideon Bodden, city carillonneur of Amsterdam and instigator of the current restoration, and Arent van Heems (Royal Eijsbouts) installed a new 'breech'-transmission system. This meant that the carillon could be played again in 2018. Since then, the restoration of the Zuidertoren's outside has been completed. However, on the inside, many joints still have to be replaced, while the swinging bells also need some attention.
It is remarkable that the historical keyboard, dating from the 17th century, has been installed again and was restored to its original location. The position of the wiring in relation to the keyboard and the bells is now as it was in 1657, this is a major musical improvement. The steel hammers and cast-iron clappers dating from 1994 have been replaced too, as they damaged the bells. The new hammers and clappers are composed of a softener alloy containing messing, manganese and aluminum. The clappers were, entirely in accordance with lists of the Hemony brothers themselves, made slightly heavier, which benefits the sound of the bells.
On the website of the KNKV, you can read more about this carillon restoration in the article by Juliet Oldenburger (only available in Dutch) from the magazine 'Binnenstad' nr. 284 van de Vrienden van de Amsterdam.
Foto's: Wim Ruigrok