Composer Jacob van Eyck gets own festival
Details
The very year that the fortified city Heusden celebrates its 700 years anniversary was an excellent opportunity for a festival dedicated to Jacob van Eyck, the city's most famous dweller. Between Friday the 26th and Sunday the 28th of October, music by the blind composer born around 1590, who can be seen as trailblazing for carillon music and is world-renowned for his music for recorder, sounded all through the city. Admission to the festival was free of charge.
The festival was opened on Friday afternoon, the 26th of October at 17.00, with a monologue by Vincent Bijlo, comedian, columnist and musician, who is blind himself. One of his best-known quotes is: "My images are sounds". This all took place in the old town hall in Leusden. Bijlo is very fond of the carillon. Last year, he played the mighty instrument of the Dom Tower in Utrecht, the place where van Eyck won his fame. After the talk, the festival was officially opened by Mart van der Poel, alderman of Leusden, who received the first copy of the festival guide.
The highlight of the festival was the spectacular concert "Ode to Jacob van Eyck", Saturday evening 20.00 in St. Catherine's Church. The internationally renowned recorder player performed together with his ensemble, Cordevento, and city carillonneur Peter Bremer a programme entirely dedicated to van Eyck's music. The accompanying special sound effect produced by 'sound artist' Jorrit Tamminga lent the concert extra sonority and made the concert exciting for everyone even those less familiar with classical music. A special cameo was reserved for students of De Aleph music school from Drunen.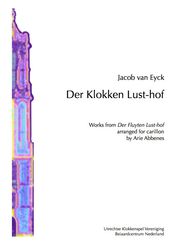 During the weekend there were also many other performances, carillon concerts, lectures, an exhibition with tours, a recorder masterclass by Erik Bosgraaf, an improvisational concert in the dark and a creative workshop for children.
More information can be found on the website: www.jacobvaneyckfestival.nl (in Dutch).
A collection of carillon music by Jacob van Eyck for carillonneurs and campanologists is available at the webshop of Netherlands Carillon Centre