Christmas in the air
Details
Carillon concerts in the winter? Must be possible. Hence our proposal for a special festive concert: "Christmas in the air." This could be a free-standing project or could be incorporated into a Christmas market with a role for the carillon.
This musical project immerses the town in a wonderfully relaxed Christmas atmosphere. From the carillon tower, jazz singer Kim Versteynen sings some Christmas standards (with amplification from the sound holes at the top of the tower) and is accompanied by Jan Verheyen on carillon.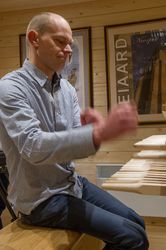 The program includes well-known Christmas songs such as White Christmas, Winter Wonderland, Sleigh Ride, Let it snow, Have yourself a merry little Christmas …
With this jazzy, lounge-like Christmas music around the town nobody will care about it being a white Christmas or not…
The performance period is November / December. Are you interested? Contact us for more information.
Kim Versteynen / Jan Verheyen (This email address is being protected from spambots. You need JavaScript enabled to view it.)