Bauke Reitsma carillonneur in Almere
Details
ALMERE – Bauke Reitsma has been appointed town carillonneur of Almere-Stad and Almere-Haven and will be playing on a weekly basis in good cooperation with his colleague Gerda Peters who also provides weekly concerts on both instruments. Bauke is already carillonneur of Bunschoten, Baarn and Weesp.
Fourteen candidates responded to an advertisement from the municipality of Almere. Only two were eventually invited for an audition on the carillon of the Goede Redetoren.
The Almere Carillon Foundation while not directly involved in the selection process greatly appreciated that the municipality had invited not only musicians but also representatives of shopkeepers to take part in the selection. Apparently even residents could give their opinion, without risk of course to the impartiality of the proceedings. In any case, the selection committee completed their task promptly on the same afternoon.
Bauke is also active as organist, pianist and conductor in addition to carillonneur. He is also secretary of the board of Netherlands Carillon Center.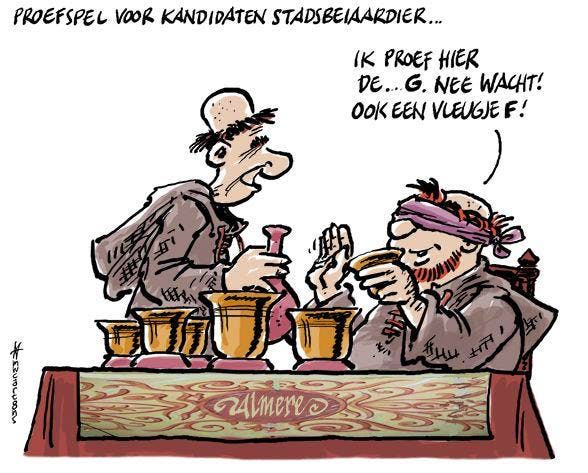 Cartoonist Maarten Wolterink, as seen in the newspaper 'Almere Today', clearly had other views about such an audition or proefspel - playing on the Dutch word for test: proef which is also used for 'tasting'.…