Dutch Carillon News No.17 (October 2014)
DUTCH CARILLON NEWS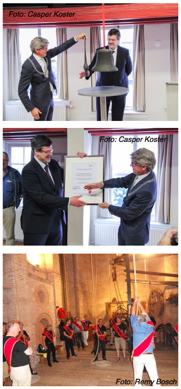 The memorials and festivities relating to the building and the carillon studies at the Netherlands Carillon School of HKU Utrechts Conservatoirum were combined on September 6th at the Carillon Day Amersfoort. Without going into the details of what those who were absent missed, I would like to stress the importance of this day.
In the first place, it was good that all those connected with carillon studies were able to meet in person. (Former) teachers and (former) students, members of the HKU Board, the Amersfoort City Council and the Netherlands Carillon Center came together in a non-official situation. Thanks to this, the network around the carillon organisations could be strengthened and increased.
Besides the highlights of the programme, there were two special events that must be mentioned. As representative of the City Council, the Mayor of Amersfoort presented the chairman of the Board of Governors of the HKU University of the arts Utrecht, Mr. Jules van de Vijver, with the Municipal Charter of Amersfoort. This served to accentuate the value of the 60 year-old Carillon School for the city. After all, its students have been the city's carillonneurs for the past 40 years and this highlights the bond between the school and the city and their joint responsibilities.
Jules van de Vijver was so generous as to give Simeon Bodden the document for framing and giving it a prominent place in the recently reopened building at the Grote Spui. To round off the festivities, Mr. van de Vijver proposed to offer scholarships to carillon students. This will, of course, need further planning, but accentuates all the encouraging visions for the future. The Netherlands Carillon Center looks forward to these with pride and great hopes.
Christiaan Winter
(Chairman Netherlands Carillon Center)
As from November 1st, the Tower –of –Our Lady / Onze-Lieve-Vrouwetoren in Amersfoort will not only be the official centre of the Netherlands, but also its dazzling centre.
The installation of the durable LED lighting has been completed. Designed by Jeroen Jans, it is not only very beautiful but also considerably reduces both energy costs and the emission of CO2.
The new lighting will be officially put into use at 19.15 hrs. on November 1st
Ludis modalis : ten carillon studies for the intermediate degree / Geert D'Hollander
Ludis modalis II : ten carillon studies for two to play : lower and intermediate degree / Geert D'Hollander
December Klokken : kerst- en chanukah-liederen gearrangeerd voor beiaard door Mathieu Polak (Christmas and Chanukah songs)
The carillon plays : carillon / composed by Julien Keymolen
A melody : carillon / composed by Julien Keymolen

Don't forget to order your Christmas music on time…

Editors: Bauke Reitsma en Gea van Veen
Texts: Christiaaan Winter, Bauke Reitsma en Gea van Veen
Translation: Ania Lentz

Netherlands Carillon Center
Grote Spui 11
3811 GA Amersfoort
The Netherlands
info@beiaardcentrum.com
www.beiaardcentrum.com
Incomplete newsletter? View online
Nederlandse nieuwsbrief?

Wijzig je abonnement


No newsletter?

Unsubscribe