Dutch Carillon News No. 43
DUTCH CARILLON NEWS
Here is the latest news from Netherlands Carilllon Centre:
New in the web shop
Luc Rombouts en Andreas Dill
De Vredesbeiaard van de Abdij van Park
Searching for lost sound
The carillon of Park Abbey has a turbulent history. It was created in 1730, escaped claim from French occupying forces and moved to the St Peter's Church in Leuven in 1811. The beautiful instrument was lost during the Fire of Leuven in the night of 25-26 August in 1914.
In 2013, Jens Metzdorf, city archivist of Neuss, discovered that a battalion of reservists from his city was partly responsible for the destruction of Leuven. The two cities Leuven and Neuss decided to use culture to connect what was once separated by fire. They engaged in activities to restore the lost carillon in its original place.
On November 11th 2018, 100 years after the truce, carillon music sounded again in Park Abbey for the first time in two centuries.
In this book, carillonneur Luc Rombouts presents the captivating story (in Dutch) of the rebirth of Park Abbey's carillon. Andreas Dill provided expressive photographs.
Dr Luc Rombouts is carillonneur and researcher. He has written multiple successful books on carillon culture in the Lower Countries and coordinated
the file which led to the recognition of carillon culture in Belgium as cultural heritage by Unesco.
Andreas Dill is a translator by profession and a passionate photographer in his spare time. Architecture is one of his treasured subjected. In his
carillon pictures, he brings structure, shapes and materials to life.
---
Chag Sameach
The book Chag Sameach, which means "Happy Holiday" in Hebrew, covers all Jewish holidays and memorial days with new compositions and arrangements. You will find music for the Jewish day of the new year (Rosh ha Shanah), for Passover (Pesach) and for the most important day in Judaism: the Day of Atonement (Yum Kippur). The book has 140 pages and includes an introduction by the author with explanations to both the Jewish holidays and the music included in the book.
On Tuesday the 7th of May 2019, carillonneur Boudewijn Zwart played a premiere with 18 pieces from this book on the carillon of the Westertoren in Amsterdam. On the 28th of September 2019, Henk Verhoef will also play a Chag Sameach concert on the carillon of the Petrus tower in Woerden.
Both the book and the premiere attracted media attention by, amongst others, Parool newspaper, het Nieuw Israëlitisch Weekblad (New Israelite Weekly), the Jewish Broadcasting Company on the Netherlands Public Broadcasting system (EO) and the online magazine Jonet.
The music contained in Chag Samaech cannot only be played in themed concerts, but many of its pieces are also suited to be played in general, weekly, concerts. The music contained in Chag Sameach befits a carillon concert that speaks to all inhabitants of multicultural cities. If you want to hear a sneak preview of Chag Sameach you can listen to some pieces on youtube, for instance, Leshanah Haba'ah or Shalach Manos.
Read here the Book Review
---
Godesberg Suite
Bad Godesberg Carillon Book II
Bad Godesberg Carillon Book III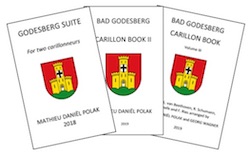 On Saturday the 30th of March 2019 three new carillon books were presented to the public in Bonn (Germany). These are composed by Mathieu Polak, composer and teacher at the Netherlands Carillon Center in Amersfoort. The compositions and arrangements are designed for a two-octave carillon with 23 tones (c3, d3, e3, f3 chromatic to c5), without pedal. The in total 18 new compositions and 30 arrangements form a substantial contribution to existing literature for this kind of instrument.
Out of the 48 pieces, comprising almost 90 pages spread out over 3 books, 12 pieces are written for carillon duet (this includes a suite in 5 parts which constitutes the first carillon book). This compensates for the absence of pedal, makes use of the complete size of the instrument with 2 octaves and encourages duet play. Because there is no pedal voice, the player can focus completely on manual play. For this reason, 7 pieces for solo carillonneur are titled "etude". These etudes are all characteristic music pieces by themselves, that together form a 7-part suite.

Editors: Hylke Banning, Mieke Lanen, Gea van Veen and Christiaan Winter
Translation: Jessica Simonetti
Layout and publishing: Gea van Veen

Netherlands Carillon Center
Grote Spui 11
3811 GA Amersfoort
The Netherlands
info@beiaardcentrum.com
www.beiaardcentrum.com
Twitter: @beiaardcentrum
Facebook: Beiaardcentrum
Incomplete newsletter? View online
Nederlandse nieuwsbrief?

Wijzig je abonnement


No newsletter?

Unsubscribe